Urbana City Pool
2020 Season
Opening Day: Friday, July 3rd, 2020
*Weather Permitting*
Follow us on Facebook for real-time updates!
Click here to check capacity before you come to the pool
Pool Hours: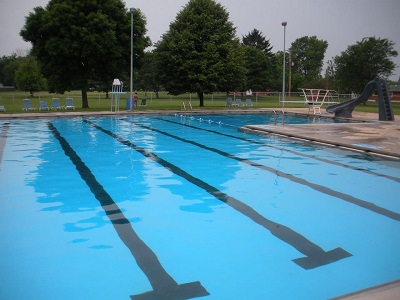 Season Pass Holders:
Monday - Saturday 12 noon - 6:00 pm
Sunday 1:00 pm - 6:00 pm
Day Pass Admission:
Monday - Saturday 12:30 pm - 6:00 pm
Sunday 1:00 pm - 6:00 pm
For the 2020 season, the pool is open only to Champaign County residents or those who work within the County - proof of residency/employment required
There will be no swim lessons, swim team, Fido's Dog Days, or junior lifeguard program in 2020
Pre-season pass sales available at the Champaign Family YMCA June 24th-July 2nd; all season pass sales after July 2nd will be at the City Pool. (Please bring in your prior year pass card if you have it)
Individual Season Pass:
Adult $50 (age 18 to 59)
Child $35 (age 3-17)
Family Season Pass:
2-3 persons $75
4-5 persons $95
6 or more persons $105
Babysitter / Babysat Child $20
Daily Admission:
New for 2020 - daily guests must complete a one-time Guest Card before first visit (parent or guardian must complete for child under age 18)
Children 2 and under FREE
Adult and Child $5 (age 3 to 59)
Seniors (age 60 and up) FREE - must still fill out a membership application
Updated 2020 City Pool Rules, COVID-19 and Weather Policies
FAQ's
What if I work during the day and my non-season pass holder child (8 and over) is being dropped off or riding a bike to the pool?
A: You must come to the Y by July 2nd OR stop by the City Pool on the first visit to sign our guest card for your child to include emergency contact information and liability waiver. This will only need done on their first visit.
Can I bring out of town guests to the pool?
A: Unfortunately, no. Pool membership and daily guests for 2020 will be open to those who work or reside in Champaign County only. Proof may be required.
What about birthday party rentals, swim lessons, junior lifeguard program?
A: Currently, no rentals or junior lifeguard sessions are being scheduled for 2020. Swim lessons are being held at the YMCA and are open to Y members and non-members.
Am I required to wear a mask in the pool area?
A: Masks are not mandatory, but state guidelines still recommend a face covering when social distancing cannot be maintained.
Can I bring food to the pool?
A: As in the past, food and drinks are permitted. Alcohol and glass bottles of any kind are prohibited. Full concessions by Paul's Catering will be running in 2020!
Is the City Pool included in my Y membership?
A: The Champaign Family YMCA is under a management contract only with the City of Urbana. Y membership does not grant access to the City Pool.
Pool address: 689 Park Lane
Pool phone: (937) 653-6994