Adult Volleyball
Adult and Teen Volleyball Open Gym

Thursdays 7:30 - 9:00 PM
FREE to Members only
---
Co-Ed Adult Volleyball League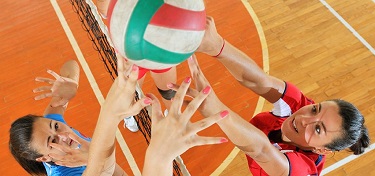 Adult Recreational Volleyball at the Y is open for registration! Build your own team, ask your company to sponsor you, or stop in and sign up as an individual!
Either way, you'll have a great time! Don't wait, league will most likely be limited to 12!
2020-21 Information
Registration deadline is Nov. 22nd (Sunday before thanksgiving) to ensure we get jerseys for everyone on time for opening games on Sunday, Nov. 29
TEAM REGISTRATION FORM (turn in with Team Captain registration or email to ymca@ctcn.net)
COVID SPECIFIC GUIDELINES (posted as the season draws near) - Players WILL NOT be required to wear masks while playing.
| | | | |
| --- | --- | --- | --- |
| 1 | How I Set Your Mother | 8 | 2 |
| 2 | | 5 | 4 |
| 3 | U-Town Throw Down | 7 | 2 |
| 4 | Team Ibuprofen | 2 | 6 |
| 5 | Bumpin Uglies | 0 | 8 |
| 6 | Block Party | 8 | 1 |
| 7 | Holy Balls | 4 | 4 |
| 8 | All About That Ace | 3 | 6 |
| 9 | YU Coach | 6 | 4 |
| 10 | Set-em Up | 1 | 7 |