School-Age Child Care
For more information on any of our school-age programs, including Before and After School Care, Summer Day Camp, and more, contact Nicky Naylor at (937)484-3564.
To be eligible for school-year care programs, including Before and After School Care and School's Day Out, children must be at least 5 years of age and enrolled in grades Kindergarten through 5th grade (6th grade for Before and After Care at the YMCA).
To be eligible for Summer Day Camp, children must be between 6 and 13 years of age and have completed Kindergarten.
Exceptions to these guidelines may be made at the discretion of the YMCA program director in collaboration with the child's parent/guardian.
Before and After School Care - Grades K-6
Program serves Urbana City Schools and Graham, Mechanicsburg, and West Liberty-Salem Elementary Schools.
See our Before and After School Care Brochure for more information and rates.
School's Day Out - Grades K-6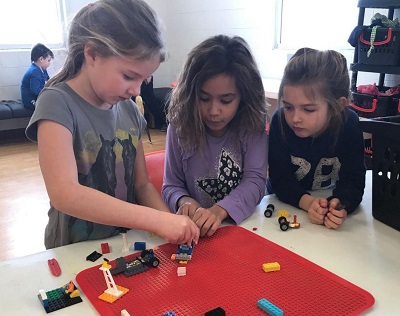 When your child's school closes, the Y opens its doors. We provide a full day of games, crafts, swimming and fun with friends. Bring a swimsuit, towel, and gym shoes for gym time.
Themed activities: 9:00 am - 3:00 pm
Before and After Care (included in daily rate) 6:30 - 9:30 am and 3:00 - 6:00 pm
Y Member Rate - $30/day
Non-Member Rate - $35/day
Hot lunches are available for $3.00/day, or pack your own lunch. Healthy snacks are included.
School's Day Out follows Urbana City Schools' calendar, but is open to children from all Champaign County schools.
Advanced registration is available for pre-scheduled holidays, winter/spring break, and teacher work days. Program will also be offered when Urbana schools are closed for weather; parents may register child at the Y Welcome Center at drop-off. Space is limited.
Parents' Night Out - Ages 3 to 12 years
The Champaign Family YMCA offers Parents Night Out several times a year to provide kids a safe, supervised night with friends at the Y while parents enjoy an evening to themselves. Swimming, sports and games, pizza and a movie are included in the fun!
Cost is $15 for members/$25 for non-members for the first child; $10 for each additional child. Child must be fully potty trained. Bring a swim suit and towel for swim time!